The Information Office of the People's Government of Gaoming District, Foshan City, Guangdong Province, reported on the evening of the 8th. On December 8, the Lingyunshan forest fire in Gaoming District, Foshan City, was extinguished by the rescue team for four consecutive days, about 6.30pm. The situation has been effectively controlled, and the work of clearing and guarding the fire scene is ongoing, with no casualties or damage to important facilities.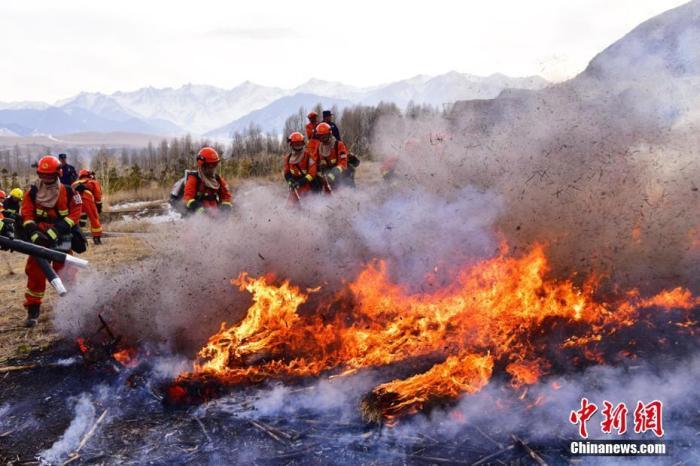 Data sheet: Firefighters are fighting a fire. Photo by Wu Xuefeng
It is understood that on December 5th, a fire broke out in the mountain near Yingang Reservoir, Lingyun Mountain, Hecheng Street, Gaoming District. After the incident, the Guangdong Provincial Party Committee, the Provincial Government, and the Ministry of Emergency Management attached great importance and demanded scientific rescue to ensure the safety of people's lives and property. The Emergency Management Department sent a working team to the fire field to guide the fire extinguishing work, and dispatched forest fire protection teams from Fujian and Hunan to reinforce the fire; Guangdong's Emergency Management Department quickly dispatched 7 helicopters from the Guangdong Aviation Forest Guard Station, and organized a number of professional forest fire protection teams in the province. And the Foshan Army Division militia, the Armed Police Force and other 42 rescue teams about 4,000 people to rescue.
At the same time, the Foshan Municipal Party Committee and the Municipal Government quickly set up an on-site headquarters to organize relevant units in Gaoming District to quickly evacuate the villagers around the fire site, and to organize comprehensive air and ground rescue for the fire and human resources.
During the rescue operation, the local fire, wind direction, and topography of the fire scene affected the scene. In this regard, the headquarters always put the lives of the villagers and firefighters first, and coordinated and dispatched all parties to rescue the scene. After readjusting the deployment and increasing professional strength, the fire fighting method of "professional fire fighting + cleaning + duty" was adopted. The fire was extinguished with water, and the open space was cooperated to make every effort to fight the fire. The fire was gradually controlled.
At noon on the 8th, after four consecutive days of fighting, the open flames in the Xi'an Cemetery, Yingang Reservoir, Shizhou Erlingyun and other areas have been basically extinguished. At 13:30, the local wind gradually decreased, and the external disturbance factors of the fire rescue gradually weakened. The on-site command quickly organized forces to centrally extinguish the remaining open flame areas such as Songbai Village in the northeast. After about 5 hours of fighting, at about 6.30 pm, the open flames were basically put out.
The fire situation has now been brought under control. The on-site command requires that the relevant units must implement the 48-hour on-duty system immediately after the fire extinguishment, and send additional forces to implement grid-based management of the fire area, and take responsibility to others, strengthen patrol inspections to prevent recurrence. (Reporter Cheng Jingwei)