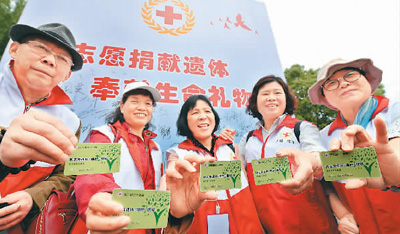 On May 7th, Hangzhou citizens displayed the "Dead (Organization) Donation Volunteer Card" at the 72nd World Red Cross Day event.
Photo by Li Zhong
Our newspaper, Kunming, December 8th (Reporter Xiong Jian) The China Organ Donation and Transplantation Symposium was held in Kunming on December 7th, and more than 100 organ transplantation experts from more than 30 countries attended and gave speeches, praising the achievements of organ transplantation in China. . "The biggest feature of the Chinese experience of organ transplantation is the strong support of the Chinese government, which is a model that many countries should refer to," said Francis Delmonique, chairman of the World Health Organization Organ Transplant Task Force.
Since 2015, voluntary donations after the death of Chinese citizens have become the only legal way to source organ transplants. At present, China has embarked on a path of organ donation and transplantation that reflects international conventions and is in line with China's actual conditions. It has initially established a scientific and just, ethical, national conditions and culture-based human organ donation and transplantation work system. Regarding this, any organist of the WHO organ transplantation project, Sai Nunes, said: "China's organ transplantation reform has achieved remarkable results in the short term, and China's experience can serve as a model for the entire Asian region and even the world." Chairman Nancy Escher emphasized: "The most important conditions in China's experience are twofold, strong government leadership and a sound medical security system."
The latest China Organ Transplant Development Report released shows that from 2015 to 2018, China completed 2766, 4080, 5146, and 6302 organ donations each year, growing rapidly. The number of donations in 2018 ranked second in the world. Through the Chinese human organ allocation computer system, medical indicators such as the patient's urgency and the degree of organ matching are taken as the sole criteria for organ resource allocation, ensuring scientific, transparent and fair organ allocation. "Although China started later than some countries, China's human organ distribution computer system can now be a model for the world." Marty Manyarich, a professor at the University of Barcelona School of Medicine, commented.
In addition, Marcelo Sorondo, President of the Vatican Academy of Pope Sciences, said that the Vatican Academy of Pope Sciences greatly appreciates China's experience and recognizes China's attitude towards respecting organ donors and life.
In order to shorten the transfer time of human donor organs, reduce the impact of the transfer process on the quality and safety of organ transplantation, and ensure the safety of patients' lives, the National Health and Health Commission and other departments issued in May 2016 the "Notice on Establishing a Green Channel for Human Donor Organ Transfer". In the three years since the establishment of the green channel, the average organ transit time has been shortened by 1 to 1.5 hours. The overall national organ sharing rate in China has increased by 7.3%, the organ utilization rate has increased by 6.7%, the radius of donor organ sharing has greatly expanded, and thousands of end-stage organ failure patients Get medical treatment.
In terms of technology, China's organ transplantation operation technology has been continuously improved and innovated, and some of them have reached the world advanced level. Organ transplants that have been carried out internationally have been carried out in China, and some organ transplant technologies have achieved breakthroughs, leading internationally, such as autologous liver transplantation, non-ischemic organ transplantation, and child liver transplantation.